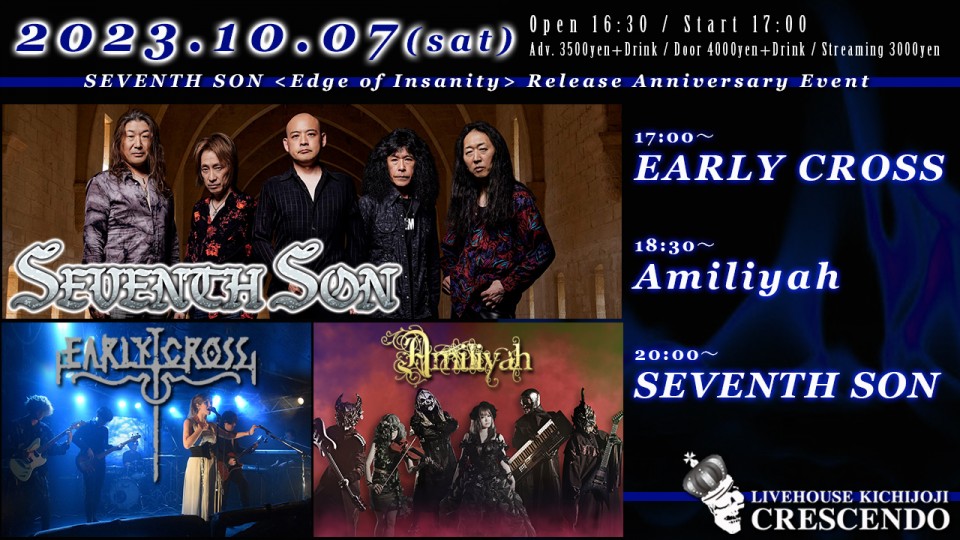 SEVENTH SON's new album, Edge of Insanity, will be released on Wednesday, October 4 on SPIRITUAL BEAST.
To commemorate the release, a record release three-man show will be held.
Act
EARLY CROSS
Amilyah
SEVENTH SON
Advance ¥3500 (drink ¥500)
At the door ¥4000 (Drink ¥500)
16:30 Open
17:00 Start
Each performance is 60 minutes long.
For ticket reservations, please contact
https://passmarket.yahoo.co.jp/event/show/detail/02effermej731.html
For those who cannot make it to the venue, there will also be a live broadcast.
https://twitcasting.tv/c:crescendo_live/shopcart/253328
If you would like to support the band in any way, please donate to the band ↓
https://kichicre.thebase.in/items/77234711
Tickets are also available through the email form on the website.
We are waiting for you with a lot of goods and autographs that you can only get at the venue!